Smart Forex Tester is a powerful tool to  automate and research your trading strategy, both on historical market data and on live prices. You can develop your strategies in standard C++ environment.
100% accurate market modeling
NO interpolations! The tests are always run on tick-by-tick data. 
Up to 1 ms accuracy. The ticks are rendered strictly according to their original time stamps.
Smart Forex Tester requires a free subscription to download.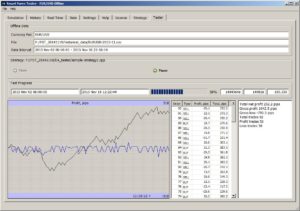 The test data is high quality real, dealable quotes – and it is free!
historical data for 15 main currency pairs since 2009.
instant online access to real inter-bank prices for 10 main currency pairs – without any account.
Trade and market analysis  you can pause testing at any time and inspect market moves and the orders with zooming tool – tick after tick.
Data feed monitor  during online (i.e. forward) testing, the tool monitors the quality of trading server connection  in real-time by measuring RTT and shows it on the graph.
Last but not least: Smart Forex Tester is EA-compatible at the source code level.
As MQL language used for EA development is essentially C++, after adjustment of EA source code to the C++ syntax, you can compile and run EA strategies in the Tester. The interfaces for a trading strategy to get market data and exchange trading commands are developed similar to those used in MT.